mar, 08/03/2010 - 20:19
Corniche ouest : un sans-abri burkinabé poussé du haut d'une falaise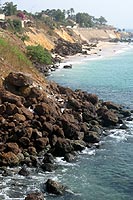 Un ressortissant sierra-léonais a jeté un sans domicile Burkinabé du haut d'une falaise, sur la Corniche Ouest. La victime, tombée sur les rochers, n'est pas décédée, mais se trouve dans un état critique. Selon les agents de sécurité de la Banque mondiale qui ont suivi la scène, l'homme, répondant au nom de Flavis, est un habitué des lieux. « J'ai pensé que c'était la police et c'est là qu'il l'a poussé en bas des rocher », témoigne un des agents de sécurité.
« Cela fait deux ans que nous avons déménagé, dans ces locaux et depuis je le vois assis là », disent-ils de la victime. Alertée par les employés de la Banque Mondiale, la police du point E a procédé à l'arrestation du ressortissant sierra-léonais auteur de cet acte, après l'avoir fouillé au corps. La victime a été secourue par deux hommes, avant d'être évacuée à l'hôpital par les sapeurs-pompiers.
Comments or opinions expressed on this blog are those of the individual contributors only, and do not necessarily represent the views of FRANCE 24. The content on this blog is provided on an "as-is" basis. FRANCE 24 is not liable for any damages whatsoever arising out of the content or use of this blog.